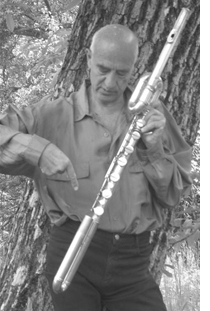 With the only notable exception of Spanish Plain, composition included in Elastic Jazz - an anthology of contemporary British Jazz (Auditorium, 2005, CD + book) - silence had fallen on Bob Downes, one of the most eclectic provocateurs on the British scene, between Sixties and Seventies. Then, in 2007, Vocalion's Mike Dutton reprinted Diversions (1971), masterpiece of "open" jazz where Spanish Plain first had appeared, and followed suit with two other important items in this jazzman's discography: Episodes at 4 AM (1974) and Hells Angels (1975). Finally, in december 2008, Mike King's Reel Recording provided the icing on the cake: a previously unissued 1974 recording of the Bob Downes Open Music collective, titled Crossing Borders, in which Downes can be heard in the company of Barry Guy, Brian Godding, Paul Rutherford, John Stevens and others. A cultivated musician, adept of musical cross-breeding, a virtuoso of the flute (he's able to play more than 25 instruments) and a composer for theatre and modern dance companies, Bob Downes has been active in music for over forty, tumultuous years. After starting out with the John Barry 7 in the early Sixties, he worked with Mike Westbrook, Keith Tippett, Ray Russell, John Stevens, Barre Phillips, Linsday Cooper, Julie Driscoll etc before launching, in the early Seventies, his own Open Music, one of the most fertile and advanced musical collectives of its times, on a level with the Sponteneous Music Ensemble or the AMM of Eddie Prévost and Keith Rowe. In the Eighties he has performed as a highlight on Poet festivals in Europe with poets like William S. Burroughs, Gregory Corso and Lawrence Ferlinghetti and in his most recent production we find him exploring new musical universes, composing melodies more and more rarefied and meditative.
Let's start talking about your last release Crossing Borders recorded in the Seventies. Can you briefly tell the genesis of this unpublished work (till now) which involves many musicians from the British Jazz area as Brian Godding, Paul Rutherford, Barry Guy, John Stevens and others? How did you get in touch with them?
I was inspired to write Crossing Borders after an amazing 6 week tour of South America. But don't expect to hear a "latin jazz" album, that was far from my intention. Barry Guy I met at a jam session at the Old Place and was instantly "blown away" with his playing and right away felt that he was going to be a bassist that would contribute superbly to my ideas. On some tracks of Crossing Borders I use two bassists which I've often done if the opportunity arose. It ensures that the "groove " isn't lost when one of them takes a solo. Rutherford and Stevens I met in the Royal Air Force Music School. Only briefly, because I was considered good enough to be posted almost straight away to one of the bands, which was good news as it meant I didn't have to stay in the school and learn all those dreaded music scales. But bad news, as I wasn't to meet up with these guys again for another 3 years. Even whilst I was waiting to be sent to another camp, Stevens and I only got together twice for a jam. The first time to "blow" on the theme of Monk's Straight no chaser. As I just got started into my solo we were stopped by a sergeant. That really left a feeling of being castrated. He was telling us that playing jazz was forbidden. A laugh really as the jazz musicians were the only ones that were capable of playing their instruments in these bands. The second time we managed to get together for a session in the canteen, but again we were ordered to stop after about 10 mins. All those years of being in a military band felt like a punishment to me for a crime I hadn't done. To keep my sanity I used the immense volume of the military band as a backing for secret jazz improvisations on parades. The first time I met Godding was on a gig with Mike Westbrook. I immediately recognised that this guy had "something to say". Brian mentioned to me recently that playing with me always made him feel like being "thrown in the deep end". But he always proved himself to be a very good swimmer. That fact is very noticable of his playing on Crossing Borders.
Musically speaking is Crossing Borders an evolution of your multicultural jazz trademark stated in Diversions, your seminal work recorded in 1971 for your own label Openian?
Of course the cd title is not only stipulating that I have literally crossed countless frontiers of South America, but the experiences and atmospheres that I encountered in this vast continent allowed me to continue to cross my own cultural borders and to put them into a musical mosaic.
How did you develop your personal style of playing? I mean you started playing with John Barry 7 and with pop singers/combo like Chris Andrews and Manfred Mann's Earth Band but, I think you wanted quickly to move to "high culture" jazz and avantgarde territory...
I think much of my personal style is partly due to never having really exersised music scales and arpeggios which can be detected in most jazz musician's playing. I abhor them! Kathy Berberian's unorthodox use of the voice of whom I saw "live" a couple of times in London, inspired me to use my voice in a similar way but simultaniously playing the flute. I also like to sing and hum whilst playing, not just in unison, but in harmony above or below the tones that I play, or hold a tone with the voice and play various tones on the flute at the same time and vica versa. But I like it all to have some meaning and not just effect. I think the flute more than any other instrument can give a person the opportunity for a vast exploration of expression. Recently I made an adaption to the bassflute by replacing the foot joint with the "U" bend of my contrabassflute and putting a cork in the end.This produces a tone far below the usual range.Then I did the same with the contrabassflute. You won't believe what the result of that is! Of course with changing the flutes in this way I'm missing several tones which are usually there, but it hasn't turned out to be a problem that I can't overcome. I can well understand, if from what I've just said, you might think that what I play sound very abstract and experimental, but on the contrary, it is very jazzy, rhythmic, blues like and sometimes "straight ahead". Now, regarding the pop scene. It was most enjoyable playing with the "John Barry 7". I liked the themes and arrangements. The "front line up" was trumpet, tenor sax and bari sax, a nice texture and colour combination. It was fun also working with Chris Andrews because Chris sang the blues real good. But what we played "live" was very much different to what the record buying public knew him for. We'd get his pop hit Yesterday Man over with early in the performance to satisfy the fans and then get "down to it". Almost every piece we played was based on a 12 bar blues and very riff like..and I had ample opportunity for solos…
"The Earth Band" wasn't my scene, I dug Manfred's playing, but that mindless predictable rigid drumming bored me. My heart of course had belonged to jazz from the very first moment I began playing tenor sax. I had no previous knowledge of music but started improvising and composing with the sax from "day one" and even made up my own notation for the first week or so until I got down to learning to read music. Anyway I felt like a break was needed from the pop scene and actually went into the night club scene for a couple of years working in 2 different venues nightly, 6 days a week from 9 pm - 4.30 am with just a 1 hour pause. Sometimes we even played at a hotel on a Sunday but only at these gigs for something like two 1 hour spots. It felt like being on holiday compared to the night club gig. My "big break" came unexpected with a commission from the Ballet Rambert. From then on I was able to concentrate totally on my musical activities and so I was able to pack up the night club scene. The year was 1969.
In the Seventies you have been always interested in many different kind of music: jazz, rock, contemporary, classical, electronic, oriental and so on. It seems that you have always tried to expand your spectrum of influences. Can you speak about your main sources of inspiration (Ornette Coleman, Severino Gazzelloni, Roland Kirk etc.)?
Miles Davis lp's of the late 50's were a big inspiration to me. I paid more attention to what he was "putting down" even though Coltrane was on the same album. I liked the Stan Kenton Orchestra but one day, I was only about 19 years of age at the time and living at home, my mother mentioned how the music depressed her, so rather than be tempted to play them while she was in earshot. I threw them all in the dustbin. I liked Ornette's playing but all of my jazzfan friends didn't, making stupid comments as to how he couldn't play, but that didn't deter me. At this time I heard Sonny Rollins' tune Doxy which was on an ep record. I was "caught". A few years later I heard Kirk on record and loved that nose whistle he blew at the end of his solo statements. Compositionally perfect! In contrast I liked listening to composers such as Petrassi, Debussy and Penderecki. By the way it was John Stevens who called by with a Gazzelloni lp for me to listen to. And I did! Fascinating!
Despite your various collaborations with a lot of musicians and composers of the British scene (Guy, Tippett, Westbrook, Russell etc.) you have always preferred to stay a bit apart from the emerging British jazz circuit and to follow your own way. Do you agree?
The jazz scene at the time fell pretty much into two categories. Bands that either played only "standards" or only "free jazz". I was outside both of them. I don't dislike standards, in fact I admire most of them, especially remembering my mother singing Body and Soul, The man I love, Summertime and many others. But I don't like to be "controled" with improvising on AABA-formats.What annoys me is that jazz groups first state the theme and then ramble off into improvisations that bear no connection with it any further. Of course there are elements of free jazz in my music also. There were people that would ask me how much was improvisation and how much was composition in my solos. I like to think of what I do, when playing as "instant composition".
Have you ever played at the Old Place in London or at the Little Theatre Club in London?
Yes, a few times, but I needed to be apart from it and delve more into what I was searching for and not get "side tracked" by other forms of music that was going on.
How do you look to your first works as Electric City and Deep Down Heavy, quirky jazz mixed with a clear heavy rock approach? And what about Rock Workshop experience with guitarist Ray Russell?
When Vertigo records asked me to do an album it just hit the right time to allow me to "let the steam off". So Electric City was born. They requested that I keep the tracks relatively short, as they obviously wanted to release a single from one of them. So there was no possibility to give players like Kenny Wheeler, Harold Beckett and Ian Carr any solos which I would have dearly loved to have done. But this would have turned it into a jazz album which was not required. It was also the first time that I was to work together with a lyricist. I believe that most of the pieces were approached by me writing first a bass guitar line followed by a theme and then Bob Cockburn with the lyrics. Before the recording sessions I requested Ray Russell, whose name is an artist name which I incidentally invented for him back in the "John Barry 7" days, to bring his 12-string guitar. But he didn't. I often wonder how different the album would have sounded if he had, because I really like the sound of that instrument. I love the sound of octaves. For instance tenor sax and trumpet in unison, you can't beat it! Here's a story for you: I have a Chinese musician friend in London that used to rehearse with his Chinese band members in his basement, and as you may know, Chinese music is all played in unison. When I had a flute with me I'd join in with improvisation and I can tell you, I'd get some strange looks from them. Where were we? Oh yeah! As one of the trumpet players was leaving the studio after the last session of Electric City, I noticed that the back of his shirt was soaking wet from sweat.
Most likely from all those high A's and E-flats, which occur quite often in the arrangements which I can assure you were not "looped". Seeing him in that condition made me feel guilty, so I called him back and paid him something extra out of my own money. Kenny Wheeler missed out on that, as he had already left the studio. Sorry about that Kenny!
Deep Down Heavy was recorded soon after Electric City. Some of the pieces were recorded of me playing on buses and the underground which attracted me to the project in the first place. The others were mostly recorded at the Caxton Hall in London, a place mainly used for recordings of classical music. For the "heavy stuff " we were putting down, the excellent acoustic properties were a bit too echo-like. Hearing each other and even ourselves was difficult. I suggested that we form a circle, which helped a lot. No editing was done on either of the albums, which would have been nigh on impossible to do with the recording of Deep Down Heavy because of the 3 to 4 secs. reverb in the room. Now regarding Ray Russell's Rock Workshop: It was a "total gas" being involved in that album. Alex Harvey sang on the album also - wonderful! The recording was done in two days of non stop raving and I had a feeling of sadness when it was all over and "put in the can". It felt like a breaking up of a family. I could have played on and on and on!
What's the most interesting/valuable collaboration in your long career?
Working with modern dance. I was given such a "free hand". It astounded me to see what a choreographer would do with what I had composed.
And what's the best musician/composer you have ever met or played with?
I've never had favourites with anything. I feel it would only limit me. There are countless players whose playing I love. Having said that, Barre Philips playing vibrated through my whole system when he was the Bass man of my Open Music Trio playing my jazz score Diversions on the London Contemporary Dance Theatre tour in Paris and Berlin. Barry Guy's arco playing always "knocked me out". In the making of the Diversions lp I gave him a lot of opportunity to use the bow. I wanted people to hear what he is able to do, as jazz bassists on the whole were not very good at arco. Barry could "lay down" a good groove as well. I've always enjoyed playing with drummer Denis Smith, a man that has a great knowledge of many styles of music. We "cooked" nicely together. He never plays too loud, very important for with flute accompaniment. I remember during an interval on one gig I was a trifle angry with Denis, asking him why for Heavens' sake he had stopped playing for a while during a "number". "I was listening to you" he answered. This is typical for Denis, no matter who Denis plays with he really listens to what is going on and integrates beautifully his ideas to make it all work. Denis and I first made jazz music with each other back in our home town Plymouth around 1956 when we took up playing a musical instrument at the same time. You could say we "grew" together musically.
Why did you decide in the late Sixties to create your own independent label Openian? Many others jazz composers followed your example like Graham Collier (Mosaic) or Hazel Miller (Ogun).
Well, I had recorded Diversions and Hells Angels for Philips Records which was to be a double album. They wanted me to get them published which I didn't want. It would have given me the feeling of parting with some of my soul. As a consequence they refused to release the album. My negative reaction towards them probably came during the recordings as they said they would pay me 15 pounds arrangement fee for each title and therefore felt cheated and got angry when only paid that amount for the Hells Angels track which was 18 and half minutes duration.
What I failed to realise at the time was, that the record company and the publishers were one and the same thing and quite naturally they wanted to get some money back via radio plays etc. I bought the tapes off them for next to nothing, you could say for nothing, as they had forgotten that they had already paid me a producer fee for the recordings. Being no longer with Philips Records gave me the idea to create my own label Openian on which the first production was 2000 LP's of Diversions. But selling them proved to be difficult, as the major record companies warned the distributors not to take Openian lp's or otherwise they would get into trouble with them.
Your first lp Dream Journey (1969) was a commission for music to accompany dance by the Ballet Rambert. Your relationship with dance has always been very strong and in your career you have composed pieces for many ballet companies or contemporary dance groups. Can you explain the origins of this interest?
It all goes back to when I was 4 years of age and used to sneak into a cinema, find myself an empty seat in the darkness. The films were meant for adults only, very dramatic and so was the music, which had a great impact on me. It lasted into my adulthood. Later being involved in modern dance it was I who was creating the "sound track" to the dramatic "pictures" taking place on stage. My first score for modern ballet came about because I happened to know a classical percussionist. who was called Derek Hogg until he asked me to find a better name for him. He became Derek Davison and "oh boy" could he make the timpani roar. Derek worked with the Ballet Rambert. Derek came around to my "pad" for a visit curious to know what I was doing musically. I played him a recent 2 ½ min. solo flute composition of mine. He suggested that I orchestrate it and extend the length to suit a modern dance work. I saw this as an interesting challenge, went ahead, composed it in two movements and it ended up about 26 mins. The 1st movement for 2 flutes and 3 percussionists: Davison, Stevens and Smith. The 2nd movement I added 2 tenor saxes, bari sax, 3 trumpets, which included Kenny Wheeler punching out the high notes and a contrabassist who was required to play an ostinato in 3/8 time for 14 mins. I'm glad that I didn't have to undertake this task. One time it was Harry Miller another occasion Daryl Runswick who was Ray Russell's regular bass guitarist. Also at this time I met Wendy Benka, who later worked with me as a musician. Now, Wendy knew a choreographer with the "Rambert" who was desperately looking for something new and different. So, with the recommendation of Wendy and Derek, a meeting was arranged with the choreographer. Hence out of that came Dream Journey.
Did you also play "live" with dance companies? Could you speak about these "live" experiences?
Sometimes I was commissioned to create music for tape which was music concrete. The recording was used for the performance and when the dance, costume and lighting had been made to it, I would then add new sounds and play "live" to what I saw before me and improvise freshly at each performance. Mostly with percussion, as I had many gongs, various kinds of Chinese cymbals and self made instruments of dry bones, snail shells, bamboo sticks and anything I could find, making an interesting sound texture. Composing and of course playing live for dance is fascinating, for it makes you experience your music within a totally different media. You live in the idea of the stage production and complete and widen it with your own musical creativity. When we played Diversions with The London Contemporary Dance Theatre my Open Music Trio was even part of the stage set. There were certain passages in the music that had to be played to correspond with the dance, but there was also ample opportunity to improvise. The work was 45 mins duration and sometimes when the performance was over, we were so high that when we got back to the dressing room we would continue jamming together.
Another big area of interest is poetry. You write poems and you performed in poet festivals with poets like William Burroughs, Gregory Corso, Lawrence Ferlinghetti. Could you tell us something about that?
Yes, they took place in Amsterdam, Rotterdam, Paris and Rome. I was quoted as poet and was the only one who at the same time combined it with music. On one of the festivals I sang a song of mine which contained the words "Coke…some people sniff it ..burns your brain away". Gregory Corso was in the audience and screamed out "No it fuckin' don't man, no it fuckin' don't". Gregory was a very lovable guy. I also was on a Poet festival in Rome situated in a park of the Villa Borghese with several thousand people in the audience sitting on the grass. At one point whilst Steve Lacy was setting up his soprano sax stand on stage, I went to the back of the audience and, in my "West Side Story" voice called out "Maria"!!! and as I expected it, hundreds of female heads turned to see who was calling them.
In the late Seventies you moved to Germany where you're living now. And you also changed your artistic directions: no more jazz but meditative and ambient music. Why?
It could have had something to do with all of a sudden living quite isolated in the countryside after having lived for almost 20 years in London. One day my wife came into my studio and suggested to think of a work with "Stonehenge" in mind. At that time I had a bassflute made in ex East Germany. It was particulary good in the overtones, which I used in the composition to bring out the magic side of the 5000 year old Stone circle. Also I'm sometimes asked to compose music in communication of paintings and sculptures. One time at an Art Exhibition, Tina came out with the suggestion to play along with a recording of some tibetan monks, singing the "OM" heard over the speakers at the venue while I was "setting up" my "horns". The result was that in the following 3 years I produced 3 cd's with this OM, on which I play tenor, alto and soprano sax. Concerflute, altoflute, bassflute, contrabassflute, Japanese bambooflute, ocarina and glass flute. The glass flute I played at a concert one time and someone in the audience called out that he didn't believe it was made of glass. I said Oh yeah? I 'll hit it against the mike stand and if it doesn't break you get a thousand euro, but if it does smash to pieces, then you give me a thousand euro. He curled up in his seat and remained silent. Mind you, I would not have been happy to have won the bet if I had been taken on.
Is there anything unreleased in the archive? Do you have any new projects in the pipeline?
Funny you should ask that, as at any moment the postman will be dropping in my letterbox, tapes of my Open Music Trio in concert, that were recorded by a fan of mine back in the good old 70's.
As far as new projects are concerned, I'm busy working on new compositions for my flutes with the appendages. I've also re-shaped all my sax mouthpieces recently and discovering a fresh approach to my playing.
---
Translation of introduction by Marco Bertoli
---