With the only notable exception of Spanish Plain, composition included in Elastic Jazz - an anthology of contemporary British Jazz (Auditorium, 2005, CD + book) - silence had fallen on Bob Downes, one of the most eclectic provocateurs on the British scene, between Sixties and Seventies. Then, in 2007, Vocalion's Mike Dutton reprinted Diversions (1971), masterpiece of "open" jazz where Spanish Plain first had appeared, and followed suit with two other important items in this jazzman's discography: Episodes at 4 AM (1974) and Hells Angels (1975). Finally, in december 2008, Mike King's Reel Recording provided the icing on the cake: a previously unissued 1974 recording of the Bob Downes Open Music collective, titled Crossing Borders, in which Downes can be heard in the company of Barry Guy, Brian Godding, Paul Rutherford, John Stevens and others. A cultivated musician, adept of musical cross-breeding, a virtuoso of the flute (he's able to play more than 25 instruments) and a composer for theatre and modern dance companies, Bob Downes has been active in music for over forty, tumultuous years. After starting out with the John Barry 7 in the early Sixties, he worked with Mike Westbrook, Keith Tippett, Ray Russell, John Stevens, Barre Phillips, Linsday Cooper, Julie Driscoll etc before launching, in the early Seventies, his own Open Music, one of the most fertile and advanced musical collectives of its times, on a level with the Sponteneous Music Ensemble or the AMM of Eddie Prévost and Keith Rowe. In the Eighties he has performed as a highlight on Poet festivals in Europe with poets like William S. Burroughs, Gregory Corso and Lawrence Ferlinghetti and in his most recent production we find him exploring new musical universes, composing melodies more and more rarefied and meditative.
Let's start talking about your last release Crossing Borders recorded in the Seventies. Can you briefly tell the genesis of this unpublished work (till now) which involves many musicians from the British Jazz area as Brian Godding, Paul Rutherford, Barry Guy, John Stevens and others? How did you get in touch with them?
I was inspired to write Crossing Borders after an amazing 6 week tour of South America. But don't expect to hear a "latin jazz" album, that was far from my intention. Barry Guy I met at a jam session at the Old Place and was instantly "blown away" with his playing and right away felt that he was going to be a bassist that would contribute superbly to my ideas.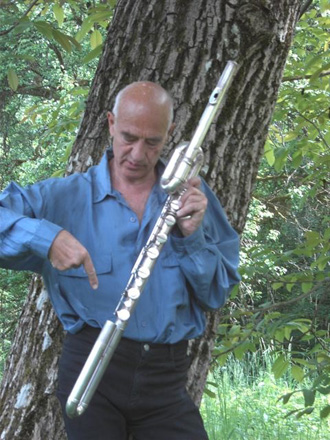 On some tracks of Crossing Borders I use two bassists which I've often done if the opportunity arose. It ensures that the "groove " isn't lost when one of them takes a solo. Rutherford and Stevens I met in the Royal Air Force Music School. Only briefly, because I was considered good enough to be posted almost straight away to one of the bands, which was good news as it meant I didn't have to stay in the school and learn all those dreaded music scales. But bad news, as I wasn't to meet up with these guys again for another 3 years. Even whilst I was waiting to be sent to another camp, Stevens and I only got together twice for a jam. The first time to "blow" on the theme of Monk's Straight no chaser. As I just got started into my solo we were stopped by a sergeant. That really left a feeling of being castrated. He was telling us that playing jazz was forbidden. A laugh really as the jazz musicians were the only ones that were capable of playing their instruments in these bands. The second time we managed to get together for a session in the canteen, but again we were ordered to stop after about 10 mins. All those years of being in a military band felt like a punishment to me for a crime I hadn't done. To keep my sanity I used the immense volume of the military band as a backing for secret jazz improvisations on parades. The first time I met Godding was on a gig with Mike Westbrook. I immediately recognised that this guy had "something to say". Brian mentioned to me recently that playing with me always made him feel like being "thrown in the deep end". But he always proved himself to be a very good swimmer. That fact is very noticable of his playing on Crossing Borders.
Musically speaking is Crossing Borders an evolution of your multicultural jazz trademark stated in Diversions, your seminal work recorded in 1971 for your own label Openian?
Of course the cd title is not only stipulating that I have literally crossed countless frontiers of South America, but the experiences and atmospheres that I encountered in this vast continent allowed me to continue to cross my own cultural borders and to put them into a musical mosaic.