DINOMANIA
Cento anni di dinosauri al cinema, un secolo lungo il quale se ne sono viste di tutti colori.
La teratologia dei tempi moderni è una rassegna di esseri giganteschi dati per estinti, oppure figli di apprendisti stregoni, orde di creature antiche che terrorizzano il pianeta. Non ci sono solo dinosauri, ma soprattutto loro si danno dannatamente da fare per seminare il panico. Il sauro è il segno dominante dei film di genere, forte della sua ambiguità, l'essere al tempo stesso di casa nell'immaginario e nella scienza.
Una mostra a Milano (24 aprile - 13 luglio 2014) al Museo del manifesto cinematografico – Fermo immagine, intitolata "Il mondo dei dinosauri", celebra i fasti del dinosauro di celluloide, ripercorrendone l'epica con l'esposizione di 100 manifesti, fotobuste, locandine e foto di scena originali, oltre a una serie di gadget. Parte di quelle locandine sono riproposte qui a corredo di Fantastic Dinosaurs of the Movies, un curioso lavoro di taglia e incolla di diversi trailer relativi ai film del genere, una specie di blob realizzato da Sandy Olivieri che riassume la storia cinematografica dei dinosauri e di alcune creature cugine, come il fondamentale Godzilla, oppure accomunate dall'essere mostri giganteschi (api, ragni, calamari e così via). Non deve meravigliare, il cocktail mix è connaturato al dinosauro di celluloide, che compare con disinvoltura in epoche e luoghi altrimenti insensati.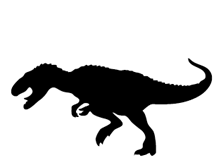 Qui di seguito la sequenza delle schegge che compongono questo film mostruoso.
Suggerito a chi ama il pasticcio di dinosauro.
In ordine di apparizione
…

Introduzione con scene da Gertie the Dinosaur (1914, diretto da Winsor McCay)
…

e The Lost World (1925, diretto da Harry O. Hoyt) seguita da una breve disamina del lavoro
…

di Ray Harryhausen, produttore cinematografico e ideatore di effetti speciali: un maestro del genere.
…

Journey to the Beginning of Time (1966, diretto da Karel Zeman e Fred Ladd)
…

The Lost World (1960, diretto da Irwin Allen)
…

King Dinosaur (1955, diretto da Bert I. Gordon)
…

The Giant Behemoth (1959, diretto da Eugene Lourie)
…

The Spider (aka Earth vs. the Spider) (1958, diretto da Bert I. Gordon)
…

The Giant Gila Monster (1959, diretto da Ray Kellogg)
…

The Loch Ness Horror (1981, diretto da Larry Buchanan)
…

The Land That Time Forgot (1975, diretto da Kevin Connor)
…

Jack the Giant-Killer (1962, diretto da Nathan Juran)
…

It Came from Beneath the Sea (1955, diretto da Robert Gordon)
…

Them! (1954, diretto da Gordon Douglas)
…

Valley of the Dragons (1961, diretto da Edward Bernds)
…

Godzilla: King of the Monsters (1956, diretto da Ishiro Honda and Terry Morse). Versione americana con Raymond Burr.
…

Tarantula (1955, diretto da Jack Arnold)
…

20 Million Miles to Earth (1957, diretto da Nathan Juran)
…

Godzilla vs. the Thing (aka Mothra vs. Godzilla) (1964, diretto da Ishiro Honda)
…

Journey to the Center of the Earth (1959, diretto da Henry Levin)
…

The Crater Lake Monster (1977, diretto da William R. Stromberg)
…

The 7th Voyage of Sinbad (1958, diretto da Nathan Juran)
…

Rodan (1956, diretto da Ishiro Honda)
…

The Beast from 20,000 Fathoms (1953, diretto da Eugene Lourie)
…

Reptilicus (1961, diretto da Sidney Pink)
…

The Land Unknown (1957, diretto da Virgil W. Vogel)
…

Jason and the Argonauts (1963, diretto da Don Chaffey)
…

Ghidrah: The Three-Headed Monster (1964, diretto da Ishiro Honda)
…

At the Earth's Core (1976, diretto da Kevin Connor)
…

The Valley of Gwangi (1969, diretto da Jim O'Connolly)
…

Gorgo (1961, diretto da Eugene Lourie)
…

King Kong (1933, diretto da Merian C. Cooper e Ernest B. Schoedsack)
…

Son of Kong (1933, diretto da Ernest B. Schoedsack)
…

King Kong vs. Godzilla (1962, diretto da Ishiro Honda)
…

One Million Years B.C. (1967, diretto da Don Chaffey)
…

When Dinosaurs Ruled the Earth (1970, diretto da Val Guest)