F
or the last forty years, alto and soprano saxist Trevor Watts' musical workshops have been providing European jazzmen with decisive means to emancipate themselves from the American canon. Watts' biography speaks for itself. In 1966, with John Stevens and Paul Rutherford, he is co-founder of SME, Spontaneous Music Ensemble, a landmark for all those involved in the then rising British jazz scene and a cornerstone of the free music scene of Europe; SME ranked among others Kenny Wheeler, Derek Bailey, Evan Parker. The decade under SME's seal wasn't but the starting point of a long, searching path. Around the same time, in order to better express his musical soundscape, Watts establishes Amalgam. Amalgam will produce ten record in thirteen years (1967-1979): a composite of jazz, improvisation, folk and world music, joining such musicians as Barry Guy, John Stevens Harry Miller, Colin McKenzie, Keith Rowe, Keith Tippett, Liam Genockey and reaching its peak towards the end of its life cycle with the four-records album Wipe Out and with Over the Rainbow. Since the Ode album (1972), he is at the same time a major player in Barry Guy's project, the London Jazz Composers Orchestra. Amalgam folds, and Watts joins briefly forces in a trio with John Stevens and Barry Guy. In the early Eighties, a new venture: Moiré Music. The inter-cultural focus of this project, whose lineup ranges from trio to 35-pieces band, proves once again to be ahead of its times: thick in rhythmic and melodic texture, at once complex and jubilant. The Drum Orchestra, The Celebration Band and several meetings with African musicians and percussions, always centered on rhythm, follow in a similar vein.
More recently, Watts pursued a sober practice of solo improvisation (World Sonic) and sometimes a duo with Veryan Weston (6 Dialogues). He also played duets with percussionist Jamie Harris (Live in Sao Paulo and Ancestry), an experience he considers to be concluded. Anyway, this was just where our conversation started.
---
Can you briefly tell us something about your last tour in Brasil with percussionist Jamie Harris? In 2005 you recorded a live concert in Sao Paulo before an enthusiastic audience and you have had musically speaking many connections with centre and latin american musicians and countries (eg. Mexico). Could we say that Latin America is your second "artistic country"?
The visit to Brasil on this last occasion (December 2007) was an invitation to take part in a Jazz & Blues Festival at the SESI Theatre in Sao Paulo, Brasil. This festival featured a lot of Blues players like Stanley Jordan for instance. It was a return visit after our very successful tour in Brasil in 2005 where we played more cities that time around. We found a great enthusiasm for our music, and my interest has always been rhythmic and melodic in the main, with an emphasis on strong rhythm, so people seem to relate to that very strongly wherever you go in the World and they LOVE it in Latin America that's for sure. Also I have visited many Latin American countries like Bolivia, Brasil, Ecuador, Colombia, Mexico, Venezuela, Dominican Republic etc, and on many occasions. This included major collaborations with my Moire Drum Orchestra (7 piece) and Singers/Dancers/Actors and musicians of the Teatro Negro de Barlovento (Venezuela) we collaborated together and made a 35 piece group under the title Una Sola Voz which was taken from the Moire Music recording called With One Voice. We recorded for the BBC and also played the Saalfelden Jazz Festival and Crawley (UK) Jazz Festival and some work in Venezuela as well. I have some recordings at home of this. The other major collaboration was with a musician from Mexico called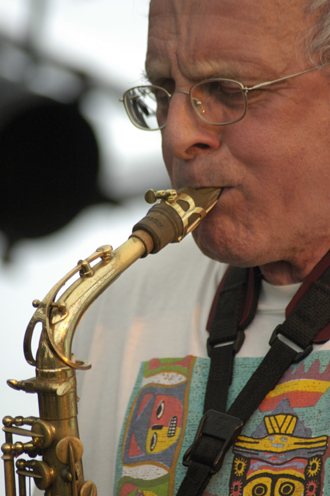 Gibran Cervantes who built this huge instrument with strings & gourds, and that can be beaten, plucked or bowed etc. He called the instrument an Urukungolo, and the group that featured it Enjambre Acustico Urukungolo. This band originally featured the Brasilian percussionist Cyro Baptista. We also played with Bolivian indigenous Indian musicians on our tour there. So I have a very strong connection with Latin America. Currently I have been asked to play some saxophone on a Brasilian project, which initially will be a recording. Although a very memorable collaboration for me was with Sudanese African musicians at the Khartoum Festival.

You have been always interested in strong rhythms and melodies with a particular attention to percussive elements that we can find in Asian, African and Latin American musical tradition. Could we say that your actual duo with Jamie Harris is a sort of synthesis of your previous experiences, notably the Moire Music ensemble you formed in 1982?
The duo with Jamie has been a distillation, and continuing study of all the rhythmic and melodic elements I have been involved with from 1982 onwards I would say. And of course this includes Islamic Arabic, African, Latin American, Asian and Celtic influences. However that duo came to an end after our last visit to Brasil.

Emanem has just released an old duo recording previously unissued Bare Essentials with you (soprano sax) and John Stevens (percussion and cornet). What's the main difference between this experience (and others with John Steven, eg. Face to Face) and your contemporary duo with Jamie Harris?
Those recordings that Emanem have released were recorded by myself in 1973/74. There's not just one main difference between the two duos, but many. A lot of the time with John Stevens it was about pure experimentation and more related to abstract free playing within a tight set of principles laid down by John. So rhythm as we know it, and melody were not an intrinsic part of it. The music I could describe more as pointillistic. Plus I have been through so many things since those times that the playing with Jamie bears no resemblance to the earlier stuff whatsoever. The influences with Jamie are drawn more from the previously mentioned Folk traditions than modern Avant Garde practices. However the duo with John developed many practices that are still being used to this day on the improvisation scene by lots of other players. It became a part of that language.