Cancelleremo l'ostilità

apparentemente insuperabile

che separa la nostra carne

dal metallo dei motori

Filippo Tommaso Marinetti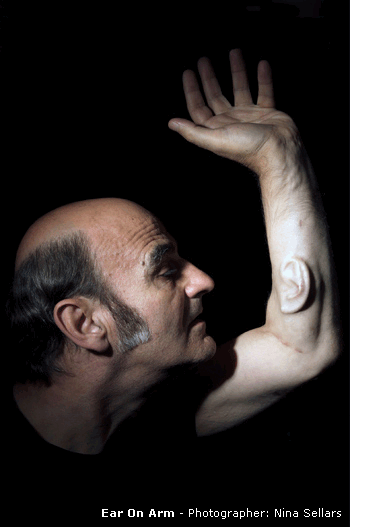 The body overcomes its biological and cultural boundaries as if in the aftermath of an explosion: from this standpoint Stelarc, the Australian, Cyprus-born performance artist active since the Seventies, attempts a reconstruction of the body (see Macrì, pp. 138-139), using video as his tool of choice. In the Nineties, Stelarc's performances were concerned with capturing the innards of the body, most famously in Stomach Sculptures (1993). There, a microscopic sculpture in silver, gold, steel and titanium was inserted in the artist's empty stomach. By emitting light or sound, either expanding or shrinking, the small sculpture (inorganic, translucent) countered the biological status of the body (Macrì, pp. 148-150). Stelarc's journey through the immateriality of the body is aimed to the inner beauty, something that lies beyond Renaissance canons and the aesthetics of outward appearance, to fathom the very core of the external perception. The body, as if it were the performer's exhibition space, is well suited to the esploration of the invisible. What we have here is technology invading the body but not in the form of a prothesis, rather as a cosmetic accoutrement; once emptied, the body is turned in to a container, of the scupture though, not of the soul (Stelarc, p. 70). As a matter of fact, Stomach Sculptures followed in the same explorative and alternative path of previous performances. The Body Suspension (1976-1988) stood as an attempt to counter gravity. Bothered by the constraint of gravitational force and in order to prepare his body for an extraterrestrial experience, Stelarc had himself suspended from the ceiling (at first dangling from ropes, then from steel wires hooked onto his skin) in art galleries, exhibition spaces and urban areas, in the course of 27 performances along ten years (Macrì, pp. 141-142).
Advanced technology, though, is the field Stelarc's researches has been most focused on. The Third Hand (1981-1994), which started out as a concept and was later concretized, represents the symbiosis between body and technology and a trespassing toward forms of sensitivity yet unknown. The third hand is an artificial hand and doesn't stand in place of the natural limbs; it complements them, with autonomous movements, after stimuluses from abdomen and legs which allow it, by means of mechanisms and tactile feedback, to open and close the fist, to grasp, to rotate the wrist (Macrì, pp. 142-144). In Ping Body, (1995), we see Stelarc, half naked, the third hand firmly fastened onto his right arm, coming across as a cyborg.
---
(*) With A Little Help From Linda De Feo - Traductions by Marco Bertoli and Mauro Vargiu (the questions)
---