It is the actual biographical notice on the artist's Myspace to provide a definition of him as "sort of an enigma". Who could have ever expected this Welsh bass player (born 1950) to raise to such uppermost perfection? First as a composer, with 1977's Kew.Rhone. along with Peter Blegvad and Lisa Herman; then, these days, as a singer-composer, with Verlaine. Eerie indeed: the beauty of former Henry Cow's latest enterprise – to set to music the poems of Paul Verlaine – can leave one befuddled. Hardly a piece in this collection goes without resonance in the listener's heart.
Time seasoned his voice by steadying, deepening and sanding it, turning it into the instrument of a consummated chansonnier; not less surprising are the chamber-music inspired charts, lead by the pervasive electric piano under Greaves' hands. Tight are the electro-acoustic sidemen, handling anything from strings, harmonica, ukulele, accordion, to winds, guitar and percussions.
Besides, all of Greaves career has ben under the sign of discovery: his beginnings in the early Seventies with Henry Cow (shooting patrol of the "Rock in Opposition" movement), then the relocation in New York, the encounter with Carla Bley and Michael Mantler and the recording of Kew.Rhone., finally, back in the UK, his joining National Health with his old pal Dave Stewart along with Phil Miller and Pip Pyle (Of Queus and Cures and D.S. Al Coda, based on compositions by Alan Gowen).
His solo work from the early Eighties ha proofed no obstacle to prestigious team-ups (Soft Heap, The Lodge, Peter Blevgad, Michael Nyman, Michael Mantler ecc.). A long series of album have been uniformly worthwhile, from the beautiful, oblique Accident, recorded 1980-81 in Paris for the indie label Europe of Jean-Pierre Weiller.
Greaves moves in 1984 to France and sets to work with a variegated group of musicians (Francois Ovide, former Gong Mireille Bauer, Sophia Domancich, Pip Pyle, Kristoffer Blegvad etc.), drawing notice through more "great projects": from Songs, 1995, with Robert Wyatt (here Greaves rearranges items from his own book, only singing in The Green Fuse), to Loco Solo-Live in Tokyo (2002) and Chansons (2004), featuring Elise Caron. 2003: the project "Dedicated to you", an hommage to Wyatt's compositions; in 2007 Greaves and Blegvad revive Kew.Rhone.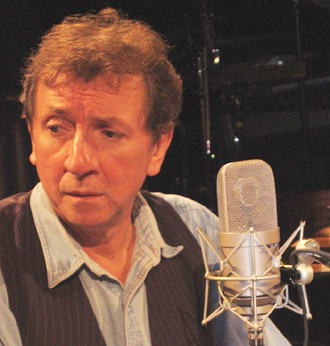 That same year Greaves lends his voice to guitarist-composer Alain Blesing's project "Songs from the beginnings" covering celebrated songs by Soft Machine, King Crimson, Hatfield and the North, Who, Led Zeppelin, etc.


Let's start speaking about your last work Verlaine: poems by Paul Verlaine transposed into songs. Can you tell us about the genesis of this work and where you take the inspiration to start it up?

Having been in France for more than twenty years I wanted to do an album entirely in French.
I also wanted to re-read poetry I hadn't looked at for an awful long time. Mallarmé, Baudelaire, Rimbaud, Apollinaire. I didn't want to set poetry to music. I was looking for songs. Reading Verlaine it was immediately obvious that in their structural rigour and thematic limpidity, these were pieces to be sung. Lyrics no less.